Secure your Accounts Payable process and prevent invoice fraud with new technologies
Several large-scale cases have recently highlighted the fraud issue, costing businesses such as Google, Facebook, Dell and Microsoft millions of pounds in fake invoices. But invoice fraud doesn't just affect big players. In the UK alone, invoice fraud cost businesses as much as £93 million in 2018, and affected businesses of every size and every industry, according to a UK Finance report.
In fact, the digital era has offered new ways for culprits to prepare and conduct fraudulent operations, meaning finance departments of companies need to be much more vigilant.
Finance departments are at the frontline of fighting fraud risks, and meeting their companies' regulatory and safety challenges is becoming one of their highest priorities.
For most, preventing fraud involves implementing mainly behavioural and procedural solutions, such as increasing employee awareness, reinforcing controls, or audits.
Although necessary, these approaches have their limitations, as fraudsters often can come from inside the company or among its close associates. Furthermore, the weight of controls may become counterproductive and reduce agility.
This is where Artificial Intelligence with Yooz can significantly improve protection and compliance without the need and the risks of manual processes.
Join this webinar to learn how the most Advanced Artificial Intelligence technologies can help automate and secure your Purchase-to-Pay process.
Agenda :
What are the fraud risks factors?
How Accounts Payable automation can help you prevent fraud risks?
Overview of Yooz's anti-fraud technologies
Live demo
Speaker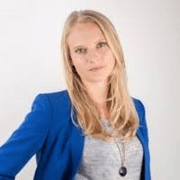 Emily Vinson has a large experience in IT with several years accompanying worldwide based clients in the implementation of the Accounts Payable Automation solution, Yooz. Currently responsible for the development of the UK market, Emily is helping clients such as Mazars, Five Guys and Academies Enterprise Trust to improve their internal processes and gain efficiency. Very alert to new technologies and finance trends, Emily is seen as a trusted advisor who helps companies of all sizes to implement adapted strategies, take full advantage of the tech, and reach their full potential.
They trust us!