It is no surprise that businesses are making investments in security tools to combat fraud. Fraud can have a huge impact on a business:
It chips away at corporate profitability.
It jeopardizes your corporate reputation.
It consumes staff time with remediation.
It erodes the trust of your trading partners.
It puts your business' viability at risk.
A single fraudulent incident can consume weeks of a finance team's time as they determine the impact, attempt to recover the funds, plug security gaps, and work to repair reputational damage.
Investments in firewalls, malware detection and other security tools are a good start to managing these risks. But to mitigate their risks, businesses also must rethink the accounts payable processes.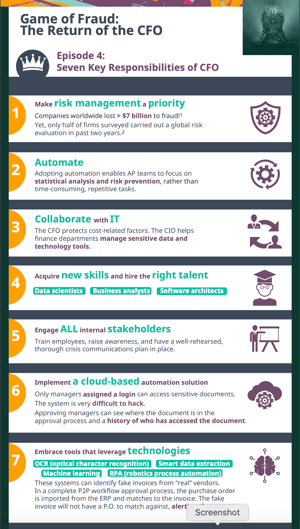 In this blog series, we are drilling down into each of the seven strategies CFOs can adopt to win The Game of Fraud. In Part 1 we addressed "Making Risk Management a Priority." Your next strategy:
2: Automate Your Processes
Why Accounts Payable is Vulnerable
Regardless of your infrastructure, manual and semi-automated invoice and payment processing (AP) leaves finance organizations extremely vulnerable to fraud, intrusions, and data theft in several ways:
No tracking of document history and approvals
No way to ensure that employees adhere to approval policies and separation of duties
No chain of custody assurances
Audit information that is difficult to accessible
No way to prevent documents from being discarded or destroyed ahead of deadlines
Making matters worse, AP departments that rely on manual and semi-automated processes don't have the real-time visibility into their financial data to tightly control risks. Consequently,
Key information is not captured.
Data is poorly organized.
Information is not timely.
Systems are badly integrated.
Decision-makers cannot access key variables to make informed decisions.
That's why 24 percent of all fraud cases are the result of billing schemes that could be prevented or detected by sound vendor master database controls and other reporting and visibility measures, per the Association of Certified Fraud Examiners.1 That's also why audits might induce feelings of apprehension and panic!
How Can AP Automation Can Help Mitigate—Even Prevent—Fraud?
Combining AP automation with state-of-the-art security tools enables organizations to mitigate fraud and data theft risks. (We'll get into more details about this in Parts 6 and 7 when we talk specifically about the various types of advanced technologies that are most effective against fraud.)
Cloud AP automation solutions ensure that only managers assigned a login can access sensitive documents. They are also are very difficult to hack. Additionally, approving managers can see where the document is in the approval process and a history of who has accessed the document, allowing an additional check and balance.
The next strategy in Part 3 of this series: Engage and Communicate with IT
For an illustrated guide to winning at the Game of Fraud, download the four-part infographic series.
1ACFE 2018 Report to the Nations Global Study on Fraud and Abuse