We continue our blog series on the seven strategies CFOs can adopt to win The Game of Fraud.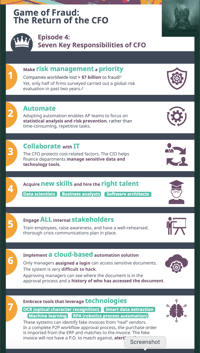 Part 1 addressed "Making Risk Management a Priority."
Part 2 explored the importance of "Automating Your Processes."
Part 3 tackled CFOs and CIOs playing in the sandbox together.
Part 4 encouraged you to acquire new skills and hire the right talent.
Your next strategy:
5: Engage ALL Internal Stakeholders
In the fourth strategy we learned that, according to the Gartner 2017 CIO Agenda Report, top-performing C-level executive's priorities include a tight focus on business growth and digitalization. Regardless of their form, organizational transformation projects yield their full potential when teams are actively committed. This applies even more when handling issues related to fraud, as the human factor is often the primary source of risk. Training employees and raising awareness must therefore be among the CFO's top priorities.1
And as we learned in our third strategy, that includes collaborating with IT. Every internal stakeholder, from staff employee to executive management, can play a valuable role in identifying red flags, reporting suspicious documents or e-mails, and paying close attention to alerts. Provide ongoing tools and resources that help internal stakeholders mitigate risk and prevent fraud. When a threat or breach occurs, it can have a negative psychological impact on employees. "Should I have seen the signs?" "I thought I trusted my co-worker." "Could I have reported something that didn't look or feel right?" Empower your teams to actively participate in the financial health and security of the firm. It's also key to have a thorough and well-rehearsed crisis communications plan in place.
Effective stakeholder engagement is a key component of success in digital ecosystems. Top performers are far more focused on supporting business initiatives, as opposed to simply optimizing IT costs. They are prioritizing business value while also contributing to overall corporate cost reduction activities — in other words, behaving like high-level business executives.2
And they are proactive in using digital tools to mitigate risk and prevent fraud…with the help of every internal stakeholder.
The next strategy is revealed in Part 6 of this series: Implement a cloud-based AP automation solution.
For an illustrated guide to winning at the Game of Fraud, download the four-part infographic series.
1-2Insights From [sic] the 2017 CIO Agenda Report: Seize the Digital Ecosystem Opportunity. Gartner Executive Programs.