As we conclude our blog series on the seven strategies CFOs can adopt to win The Game of Fraud let's first review the first six: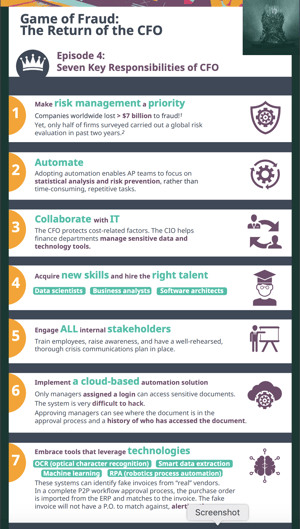 Part 1 addressed "Making Risk Management a Priority."
Part 2 explored the importance of "Automating Your Processes."
Part 3 tackled CFOs and CIOs playing in the sandbox together.
Part 4 encouraged you to acquire new skills and hire the right talent.
Part 5 defined the importance of engaging all internal stakeholders.
Part 6 showed how many of the answers to questions about fighting fraud can be found in the Cloud.
And finally, we bring it all together with
Strategy 7: Embrace tools that leverage advanced technologies
There are now some very effective technology tools for supporting finance departments in their fight against fraud and fraudsters. But how to choose the right one? Digitalization tools have become essential for financial decision-makers and are now more accessible than ever. We've touched on several in this series.
In addition to ensuring total traceability of all actions taken regarding documents, the most advanced tools also integrate algorithms capable of extracting all the data present in those documents in order to detect and prevent document fraud and trigger alerts if abnormal data is detected.
Artificial intelligence is becoming more widespread and is now within the reach of companies of all shapes and sizes. In the financial domain, software solutions that incorporate AI offer very competitive quality/price ratio.
Here are some ways that advanced technologies help fight fraud:
Frequency Analysis:

Outstanding amounts detection versus usage history
Detection of potential duplicate invoices and/or payments

RPA (robotics process automation:

Systemization of internal control rules

Traceability:

Identification of fraudsters
Access to who accessed documents

Shape/metadata analysis:

Automatic alerts in case of changes in supplier bank details
Automatic detection of forged documents (invoice, P.O., etc.)
Advanced technologies such as these also support P.O. matching, a key factor in preventing invoice scamming, a common type of fraud. When a fake invoice is submitted by a fake supplier, if there is no P.O. to match it again, the system will alert the user.
Protecting their organizations against fraud, data breach, and other devastating threats is keeping CFOs up at night. We hope this series provides some strategies that will help you win at the Game of Fraud.
For an illustrated guide to winning at the Game of Fraud, download the four-part infographic series.
Download the complete research-based white paper, Game of Fraud: Return of the CFO.