We began Part 1 of this blog series with the sad story of the AP professional who was in distress, doubting whether she was even good at her job. And we introduced the first two of four key metrics based on IOFM's 2019 Measuring Your AP Performance: Efficiency Benchmarks report to help finance leaders manage AP goals, help AP professionals be more efficient, and drive profits to the bottom line.
Part 2 details metrics 3 and 4.
Metric 3: Number of Invoices Processed Per FTE
The least efficient AP teams—those with little to no automation—process only 10,700 invoices per FTE per year on average as compared to the most efficient teams—those that have automated the invoice and payment processing workflow—that process twice that amount per FTE.
Imagine if the same number of FTEs could process twice the volume. That means as your company grows, and the number of documents increases, you could do more with the same headcount.
Even better, reallocate staff to more value-added activities like improving supplier relationships and searching for opportunities to capture early payment discounts.
Metric 4: Mix of Specialists vs. Managers
Current benchmarks for low automation companies suggest a greater ratio of lower level AP specialists to managers. And as the level of automation increases, the ratio is reversed, with more higher-level managers to specialists.
According to IOFM's benchmarking study, "this measure is not intended to be used as a tool for firing or demoting anyone to reset your staffing mix." Rather, as you lose specialist-level staff to attrition, you might replace them with a higher level manager position.
With automation, you need fewer FTEs to manually enter data and track down approvals and more thought leaders to analyze the data and provide leaders throughout the organization with insight needed to make smarter, more strategic decisions.
For a complete account of the Efficiency Benchmarks report, watch our webinar featuring IOFM Executive Editor, Jess Scheer on demand.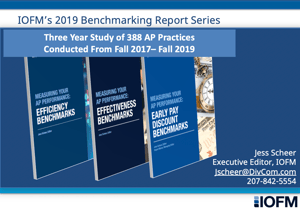 About IOFM
Over the last two decades, IOFM has connected tens of thousands of members, certified more than 20,000 professionals, conducted twice-annual conferences—the world's largest gatherings of AP professionals. The Institute also collects and manages the most actionable database of operational benchmarks for AP/P2P teams. For information about membership and to download the benchmarking reports, visit www.iofm.com.