We began this blog series in Part 1 reflecting on the 2019 conference and trade show season. We appreciate the opportunities to learn a lot about how invoice and payment processing (AP) is advancing, do our part to educate finance and accounting professionals about AP automation, and connect with our own Yooz client champions to celebrate their success and ours. So we thought we'd look back and highlight our top 10 favorite moments.
Counting down from 10 in Part 1, here are our top five:
FIVE: At the Microsoft® Dynamics Great Plains User Group (GPUG) opening session, the speaker presented how Dynamics Communities is "Investing in Our Future," by expanding user groups globally, enhancing member benefits with more educational resources, helping partners (like Yooz!) help the community, and creating a "systems revolution to make it easier to engage, connect, find, and solve."
FOUR: At a Sage Intacct Advantage 2019 (where Yooz was a Platinum sponsor) conference session panel featuring AP automation users, Yooz client champion Audrey Boggs, head accountant at E. Ritter & Company, explained to the audience that, "Yooz is the only AP automation solution provider that offers an API link for real-time uploads and direct feed to the Sage Intacct ERP." And it can all happen anytime from anywhere with the Yooz mobile app.
THREE: Scott Korte, corporate controller for Storage Space, shared, "We were using Bill.com at the time we decided to implement the Sage Intacct ERP; and it just wasn't working for our internal systems. Yooz provides a more seamless integration, a more efficient process, and at a much higher technological level." He goes on, "With Bill.com, everything had to live in their system, requiring a different login and cumbersome access. Now, all invoices get saved in Yooz and Sage Intacct, requiring only one login and easy access from anywhere with the mobile app."
TWO: "We decided to automate because of our decentralized process with invoices coming in from all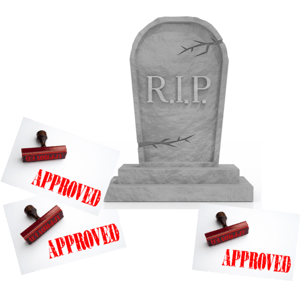 different departments," said Sandy Schaller, Liberty Fund's vice-president and controller and Yooz client champion. "We wanted a more current solution with OCR (optical character recognition) as one of the most important features. The pre-populated fields eliminate repetitive tasks and it's very handy to click within Intacct and pull up an invoice quickly."
The AP staff was so excited they made a ceremony out of the implementation. During the roll-out everyone brought old AP stamps to the accounting department and dropped them off at the Manual AP tombstone!
ONE: Mellisia James, AdTheorent assistant controller, talks about her experience with Yooz. "We were looking for a provider that would customize their solution to our needs and build around our processes, rather than telling us what we should do! What we found most impressive about Yooz was the people. They really cared about customizing a solution that was right for us.
And now, it's just CLICK away, APPROVE, and PAY!"