In Part 1 of this blog series, we challenged finance and accounting execs to bravely lead their companies and their industries in the Digital Transformation Revolution.
Now we'll get into more detail about how you can leverage AP automation to stay relevant, race past your competition, and create revenue-generating opportunities.
According to a recent report by McKinsey & Company, one of the shared traits of today's organizations embarking on digital transformation is that they tend to look inward when making such changes. The most commonly cited objective for digital transformations is digitizing the organization's operating model, cited by 68 percent of respondents. Less than half say their objective was either launching new products or services or interacting with external partners through digital channels.1
At Yooz, we don't believe these objectives are mutually exclusive; rather that one informs the other. Take leveraging AP automation for example.
Mark Brousseau, consultant, Institute of Finance Management (IOFM) spokesperson, and AP automation thought leader predicts that more and more companies who have not already automated their AP function will realize the opportunities for true leadership and do so soon. "It will be unrecognizable!" he says, "digital, data driven, and strategic. Stakeholders will unlock the value of AP automation and leverage it in more ways than ever."
Imagine how innovative and forward-thinking you as a finance and accounting leader and every member of your staff will appear to be when you leverage the data housed in your AP department to provide a solution that will save money, make existing staff more efficient, free yourself from mundane tasks and create time to formulate and execute strategic initiatives, and all resulting in more money going straight to the bottom line.
You can then achieve the objective referenced in the McKinsey report of launching new products or services and improving relationships with external partners with those now-available financial resources. And lead your industry in new product innovation, productivity, and customer service.
Seem farfetched? This same McKinsey report cited that organizations with successful transformations deploy more technologies than others do.2 Even more interesting, of the technologies deployed cloud-based services are at the top of the list, with advanced technologies such as AI and RPA (robotics process automation) not far behind.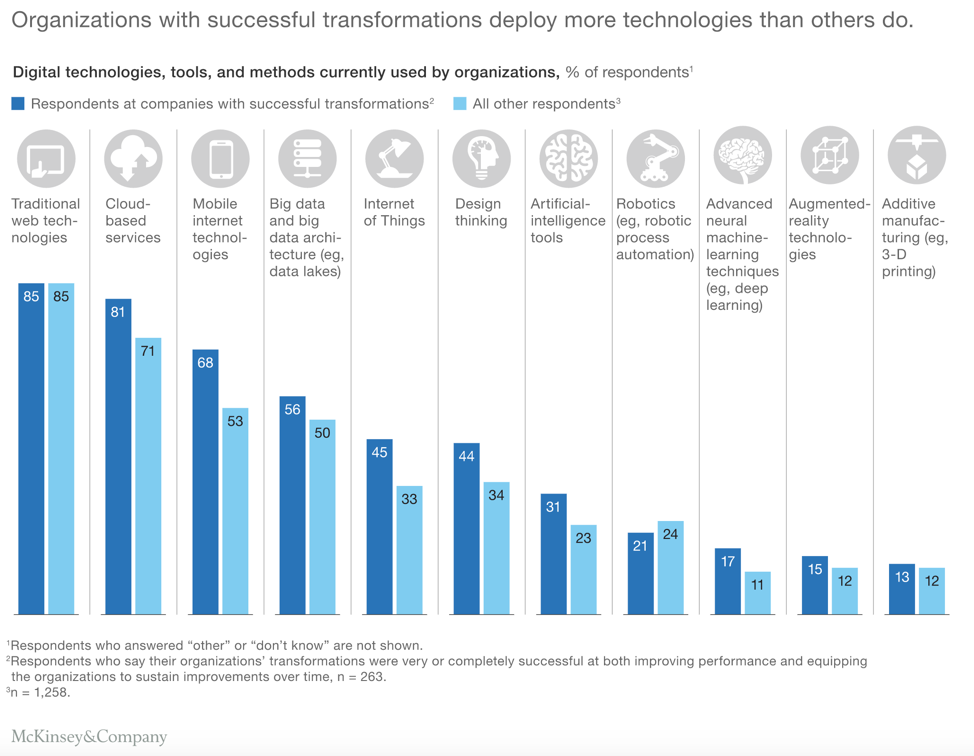 These are technologies that advanced AP automation solutions such as Yooz leverage to create a complete end-to-end invoice and payment processing solution. And arming you with the first stage in bravely leading your company AND your entire industry in the digital transformation revolution.
1-2Unlocking success in digital transformations, McKinsey & Company October 2018 survey, retrieved from https://www.mckinsey.com/business-functions/organization/our-insights/unlocking-success-in-digital-transformations on Jan 2, 2020.