"Spectacular achievement is always preceded by unspectacular preparation."
― Robert Schuller
You've wrung out as much inefficiency as you can from your manual processes. And you've realized that the only way to keep up with the mounting piles of invoices, reboot the morale of your AP department, and save money for your department and your company, is to automate. But automate what? How? And what comes after turning on the system?
What you don't know can cost you. This can be a once-in-a-career decision and the wrong choice can set your department back years. But you don't have to figure this out on your own.
Based on our recent whitepaper, 16 Very Effective Ways to Mess Up Your AP Automation Project, we have developed a comprehensive checklist to help you avoid "messing up" when it comes to choosing the right provider.
STEP 1: PREPARATION: When considering invoice processing automation vendors, how you should prepare BEFORE the due diligence process starts?
Define your firm's main business goals to achieve—and pain points to solve—for automating the AP workflow.
Establish your KPIs. What do you want to measure?
Know what kind of ERP/financial management system your firm is using. In Step 3, you'll want to be prepared to answer this when the vendors you are considering ask, and you'll want to know how seamless the solution integrates with your ERP.
Document and/or map out your AP workflow (invoice processing) from the receipt of an invoice, GL assignment, approvals, and payment to storage of documents. What happens after approvals are complete? Include specific examples.
What part of your invoice processing workflow is costing your firm the most time and money?
Would an on-premise or cloud-based solution be best for your firm?* (For more on why the Cloud is appropriate for many small- to mid-sized firms, read this article.)
Identify how many invoices you process per month and how many approvers there are throughout the workflow. How much time does it take to process an invoice? How much does it cost? (Whether or not you know the answers to these questions in your present state, they are important KPIs to measure so you can show an improvement and demonstrate an ROI. See #2 on this list!)
*What is the difference between a cloud-based solution or an on-premise solution?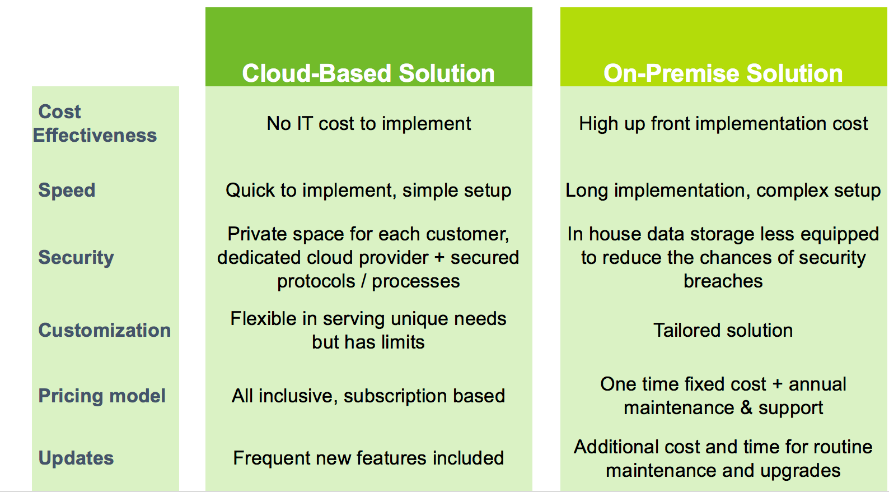 In Part 2 of this series, we'll provide a list of questions you should ask the solution providers you are considering to determine confidently whether they will be a good match for your requirements.
This blog series is reprised and updated from our November 2018 blog series by the same name.